Serving Missourians' Diverse Needs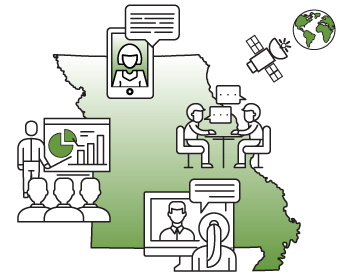 To serve Missourians' diverse needs, MU Extension must deliver content to learners where, when and how they want. We must balance technology — offering tools and information in ways we barely dreamed about just a few years ago, with the hands-on availability of faculty and staff — offering personalized expertise through a dependable statewide network. We leverage technological resources and expand our expertise to provide research-based, multi-media digital and online materials to reach audiences where and when they want it. At the same time, we place extension faculty in every county to listen to community concerns and serve as trusted sources of knowledge.
Whether through "high tech or high touch" means, we deliver curricula, courses and materials in whatever way best serves Missourians and shares university research, knowledge and resources.
These simple principles guide our work to educate:
Know your learner
Know your science
Know your value
The Evolution of MU Extension

Shop By
Shopping Options
Category