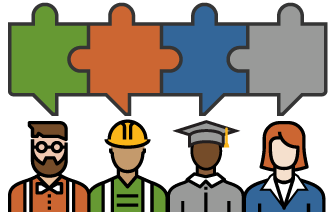 To fulfill our land-grant mission, our programs, information and publications must take Missourians' diverse needs as their starting point. Learners' experiences, growth and engagement determine efficacy and success. We respect that learners are equal partners, bringing their expertise and skills to each learning encounter and opportunity. Here you will find resources to help focus on learners and their needs and capacities:
Resources
University of Missouri Engage portal
Searchable inventory of MU programs, activities and educational opportunities that bring valuable knowledge and resources directly to people and communities of Missouri.
Connecting the people, resources, tools and ideas of UM System research and creative activities to benefit the people of Missouri, the nation, and the world.
UM System Presidential Engagement Fellows
Program established to share faculty accomplishments with Missouri citizens. Allows faculty to make personal connections and deliver on our important mission to disseminate and apply knowledge for the benefit all Missourians.