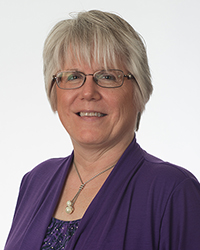 WEB SERVICES BUSINESS OPERATIONS ASSOCIATE, SENIOR
Extension Web Services, MU Extension
4 Whitten Hall
Columbia, MO 65211-6300
Victoria is a content management system (CMS) specialist on the Extension Web Services team and a writer for the Missouri Small Business Development Centers (SBDC).
As an Extension Web Services team member, Victoria helps maintain the website by posting new content, creating marketing cards and page banners, and performing regular checks. She also creates campaigns that cause a banner to display in response to certain visitor actions, such as searching on a specific word or phrase. In addition, Victoria is the team's consultant on publications and a subject-matter expert on the Hawksearch-Magento interface.
As a Missouri SBDC writer, Victoria writes stories about client experiences working with the SBDC throughout the state. The current focus is on how SBDC consultants have helped their clients obtain funding through the temporary financing programs established by the Coronavirus Aid, Relief and Economic Security (CARES) Act.
Victoria Knapp joined MU Extension in October 2009 as a senior editor of publications. In 2017, she was reassigned to the Nexus team, now Extension Web Services, where she had an integral role in building the new website. The team continues to create and maintain pages, build new sites, and troubleshoot problems.
Previously, Victoria had been the editor and webmaster for continuing education at the University of Missouri–St. Louis for five years. During part of that time, she also served as the interim manager of the CE marketing department.
Victoria has also served as a curriculum developer for UMSL's noncredit computer-training program, the managing editor of a magazine that connected crafters and computers, and an editor of educational materials for hospital patients.
Victoria has a master's in communication from UMSL and a bachelor's from the Missouri School of Journalism here at Mizzou. She was a professional editor from 1993 through 2018. An avid self-directed learner, she taught herself desktop publishing in the mid-1980s and HTML in the early 1990s. About a decade later, she completed a Chancellor's Certificate on the Computer at UMSL. Her long-time interest in computer technologies serves her well in her current position on the Extension Web Services team.