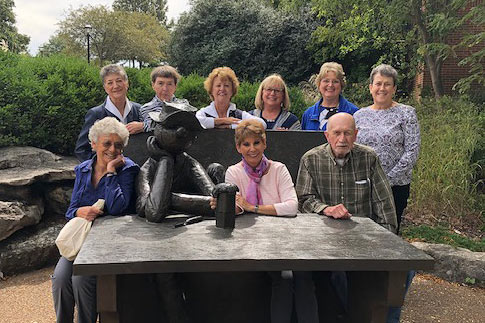 The partnership sector of engagement identifies and cultivates those internal and external groups that share MU and Extension's goals and objectives, with whom together we can be greater than the sum of our parts by bringing the talents, resources and decision-makers to the table to address and meet challenges and initiatives.
The strategic component of the title indicates the intentional thought and direction with which we approach existing, or facilitate new alliances, in order to be most successful. It revolves around having a designated point person to concentrate predominantly on building relationships for the organization that will align with the university's strategic plan and addressing the grand challenges facing our state and its families, communities and businesses.
The director of strategic partnerships identifies, facilitates and nurtures external partnerships, while also helping to empower others within our organization and councils to learn how to do the same in their corners of the state. They often follow up on leads generated by the vice chancellor for extension and engagement or the assistant vice chancellor for research, extension and engagement. They sit in as a standing member on committees to develop ties and ensure we bring the right faculty and staff to the table from the University.
Internal partnerships also have their place. Weaving MU Extension and Engagement into the very fabric of the tapestry that is the University of Missouri, builds awareness for how we meet our Land Grant Mission and how together, we can interface across disciplines to collectively bring about change.
The Land Grant
The charge that came with the gifts of land to each state, to build their land-grant university from the proceeds of the sale, was to disseminate scholarly knowledge and research to not just those students who study here, but to all Missourians, for generations to come. That practical knowledge has grown from our roots in agriculture and 4-H to the broad-based extension we now embrace at MU across nearly every school and college. Using university research-based knowledge, University of Missouri Extension works with people to understand change, solve problems and make informed decisions. When you understand our roots in the Land Grant, you begin to see how important Extension is to taking the research and knowledge, and making it available to all Missourian's. That contributes to why our Chancellor often calls us "The University for Missouri."
MU Extension's coverage of the 114 counties in Missouri (plus the City of St. Louis) is shown on the map at the left. Which counties fall under each region, and the contacts at each, can be printed from the MU Extension county map (PDF). Each county office website is available online or on this complete printable list of MU Extension county offices (PDF).
Additional materials about Missouri can be found under the Elected Officials Resources section.
As a part of the UM System, the University of Missouri also is in partnership with: