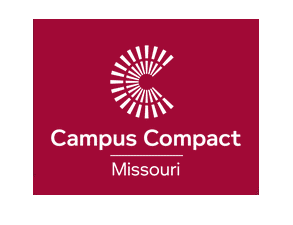 Missouri Campus Compact (MOCC) is a membership organization of college and university presidents established to strengthen civic engagement and service-learning partnerships between Missouri's postsecondary institutions and the communities they serve. Currently 20 member institutions (two-year, four-year, public and private) are committed to enhancing students' responsibility, citizenship and awareness of the community while reinvigorating higher education's concern for improving the quality of life in society. MOCC is one of 27 state and regional compacts affiliated and integrated with the national Campus Compact organization.
Campus Compact members advance the public purposes of higher education with a focus on these five tenets.
We empower our students, faculty, staff, and community partners to co-create mutually respectful partnerships in pursuit of a just, equitable, and sustainable future for communities beyond the campus -- nearby and around the world.
We prepare our students for lives of engaged citizenship, with the motivation and capacity to deliberate, act, and lead in pursuit of the public good.
We embrace our responsibilities as place based institutions, contributing to the health and strength of our communities -- economically, socially, environmentally, educationally, and politically.
We harness the capacity of our institutions -- through research, teaching, partnerships, and institutional practice -- to challenge the prevailing social and economic inequalities that threaten our democratic future.
We foster an environment that consistently affirms the centrality of the public purposes of higher education by setting high expectations for members of the campus community to contribute to their achievement.
Campus Compact offers a plethora of professional development, resources and communities of practice, awards and recognition, a micro-credential process for community engagement professionals and more.
The University of Missouri became the host for the MOCC in 2017 as part of our commitment to inclusive engagement as a land-grant, research-intensive institution for the people of Missouri.