A Word from H.C. Russell: MU Extension's CARET Delegate
December 2019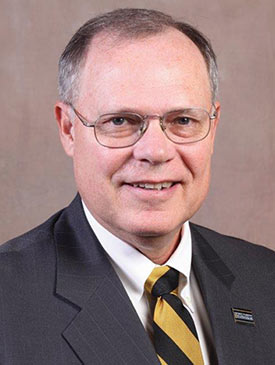 The Council for Agricultural Research, Extension, and Teaching (CARET) is a national organization founded in 1982 by the Administrative Heads Section (AHS) of the Association of Public and Land Grant Universities (APLU) as a grass roots advocacy group to support funding for Land Grant Universities at a national level.
I am honored to serve as a CARET delegate representing University of Missouri Extension. I also currently serve on CARET's national executive committee as one of the three people representing the North Central Region of the United States, which is comprised of twelve states.
The new Intranet and Internet pages being built by MU Extension and Engagement provides an engaging new platform for me to keep those I represent apprised of the latest legislation and decisions coming out of D.C. that have the potential to impact MU Extension.
Most of CARET's efforts are focused on funding though the U.S. Farm bill that helps to fund extension and research through the National Institute of Food and Agriculture (NIFA). In Missouri, those funds are critical to MU Extension, the research on MU's agricultural research stations through CAFNR (College of Agriculture, Food, and Natural Resources), and our other Missouri Land Grant Institution, Lincoln University.
CARET delegates are helping our Congressional Members, and their staff members, understand the value and impact NIFA funding has on our citizens and communities so they are able to make the critical decisions they face in the appropriations process.
Our federal funding process for the fiscal year ending September 30, 2020 is complete. On December 20, 2019, President Trump signed into law legislation funding the federal government through the end of the fiscal year, September 30, 2020. The legislation provides level funding for the Smith-Lever account, which supports Extension, and the Hatch Act account, which supports agricultural research stations. While level funding does not provide the additional support we asked for, we have seen increases in each of the past two years, so we are very appreciative of the total level of support provided.
We anticipate the President's FY 2021 budget will be submitted on February 10, 2020 and work will begin again on advocating for key programs that enable the University of Missouri to serve our citizens. The next CARET meeting is our annual national meeting the first week of March 2020 in Washington D.C.
In future columns, I will continue to share more information about CARET's efforts. Future topics will address how federal money is allocated between states and the respective missions of the Land Grant Universities, and more specifically, when Congress appropriates funding to NIFA, what is Missouri's share and how is it determined.
I hope you will use this column to correspond with me and to send your feedback so I can gather and provide the information you need, as well as providing an outlet to share when, and how, you can help along the way. Please consider bookmarking this page and returning to it often to keep up with our latest updates.
If you have any questions, or would like to bring an issue to my attention, you can reach me through this link H.C. Russell.
---