MU Extension nametags have a new look!
On the new nametags, the person's name and the MU Extension logo are etched in black onto a gold background. Names appear on one or two lines, depending on their length.
These new nametags can be ordered for faculty, staff, volunteers and council members for $11 each, including shipping.
The nametags have magnetic fasteners. The fasteners hold securely even through thicker fabrics and do not damage clothing. However, they will demagnetize bank cards, so be careful about putting them in your pocket or purse.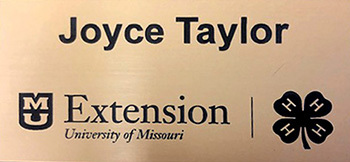 Nametags for 4-H staff will include the official 4-H emblem.
On the order form, please select 4-H under the name of each person for whom you need a 4-H nametag.
Complete the form below to order MU Extension nametags. Be sure to include your MoCode so your order will not be delayed.