Faculty Evaluations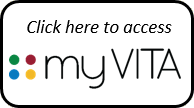 Faculty Training Video
Annual Reviews in MyVita (video)
University of Missouri System has moved all academic employee evaluations to the myVITA system. With this process, we are aligning our faculty job descriptions, evaluations, and promotion criteria around the three pillars of work of Extension faculty: to educate, create, and connect.
myVITA Timeline
2023 Faculty Evaluations

ASAP

Supervisors to schedule 1-on-1 meetings with faculty (to occur in March, or as soon as supervisor(s) complete evaluations).

For Field Specialist evaluations, both the RD and ED need to be present at meeting.

January 17

Supervisors gain access to faculty self-evaluations. If you have faculty who submit their self-evaluations before their January 31st deadline, you may start working on your supervisor evaluation.

January 31

Faculty self-evaluations due by 11:59 p.m.

February 1

All self-evaluations should be completed and ready for supervisors to review.

February 14

Supervisor #2

Supervisor comments due. Type your initials after comments. Hit SAVE.

Include comments in the Educate, Create, Connect and Overall Performance sections.

February 28

Supervisor #1

Supervisor comments due (SAVE comments, DO NOT hit Submit). Type your initials after comments.

Make sure to select ratings for the Educate, Create, Connect, and Overall Performance.

Fill out actual workload distribution percentages and expected workload distribution percentages. Numbers must total 100.

Make sure to type your name in the Electronic Signature field.

After saving evaluation, export it to a PDF, save the PDF, and then give document to faculty member so they can review it before 1-on-1 meeting.

March 31

Supervisor(s) meet 1-on-1 with faculty by March 31st.

After meeting, Supervisor 1 can make and save any needed changes to evaluation.

Supervisor 1 SUBMITS evaluation by March 31st, 11:59 p.m.
Additional Information from the University of Missouri Provost Office
Refer to Kim Shettlesworth with questions.
Additional forms and resources
Performance appraisal forms
Staff Evaluations
To encourage continuous growth, the university has implemented a review process that includes two Performance Check-Ins per year. For more information and instructions, see ePerformance Progress Check-Ins.
Relevant University Policies