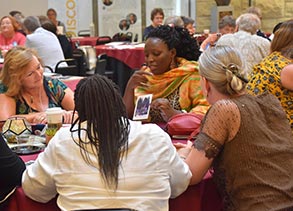 MACEDEP consists of MU Extension professionals representing the fields of business development, community development and workforce development as well as related disciplines.
A registered state chapter of the National Association of Community Development Extension Professionals, MACEDEP is a way for extension professionals from regional county offices and the University of Missouri campuses to come together and accomplish what one extension professional could not do alone. Through volunteer efforts provided by our organizational committees and members at large, the association:
Encourages and supports the application of community resource development principles throughout University of Missouri Extension
Encourages, supports and creates opportunities for the professional and personal improvement of its members
Recognizes extraordinary service to the association, extension and Missourians
Provides representation of community resource development programming to University of Missouri and extension administration
The association's annual meeting is held in October each year in conjunction with the MU Extension Summit. Additional meetings of the executive committee and members are scheduled as needed and generally held online.
MACEDEP officers
Membership
MACEDEP membership is open to all University of Missouri Extension faculty and staff members; in fact, all new faculty receive a free one-year membership. The benefits of belonging to the association include:
Strength in numbers — work with colleagues to address common concerns and goals
Develop trainings and continuing education opportunities that improve your programming and further your career
Recognize your peers for exceptional work through MACEDEP awards
MACEDEP membership brochure (PDF)(opens in new window)
Applications are accepted all year long, though the official membership year begins at the annual meeting typically held in October. Dues are $25 per year. You can either include your registration with your annual UMEA membership in the fall, or sign up separately by contacting Mistti Ritter.
Professional Development Resources
MACEDEP members may seek professional development funds through the following awards:
Community Development Endowment
Check the MU Extension Professional Development site for additional opportunities and options to request funding.
MACEDEP Information and Resources